2 Handles and 2 weighted ropes (100 g and 180 g)
Regular price
79.99 EUR
Sale price
79.99 EUR
Unit price
per
Sale
Sold out
In stock - with you in 7 business days

Free shipping over 60 EUR within the EU

Free returns within 14 days

Pay in 14 days with Klarna
Choosing a size? Not with our adjustable ropes - suitable for all heights

Ideal for fat burning and muscle building

Press one Button to change the different Jump-Ropes in seconds with our fast and easy clip system

Take it wherever you want - with the carry bag for easy transport
The Weighted Jump Rope Starter Pack includes
2x Freeletics Exchangeable Jump Rope Handles (235g in total)
1x exchangeable Freeletics Lightweight Jump Rope (100g at 4mm width) adjustable up to 3m.
1x exchangeable Freeletics Midweight Jump Rope (180g at 6mm with) adjustable up to 3m.
1x Allen key for rope adjustments
Details

Adjusting your rope

MEASURING THE CORRECT CABLE LENGTH
1. Wear shoes that you will train in.
2. Step with one foot onto the cable.
3. Pull both ends of the cable up. They should be just below your armpits.

CABLE LENGTH ADJUSTMENT
Detach the rope from the handles.
Remove the cap on one end of the cable with the Allen key.
Use pliers to cut the cable to the desired length.
Replace the cap on the free end of the cable. Tighten it securely with the Allen key.

This process should be replicated for all cables. Cutting the cables is a non-reversible process!

STORAGE
To be sure that your Freeletics Jump Rope remains in perfect condition, proper storage is mandatory.
Avoid bending or wrapping the cables too tightly when storing them.

PRESERVING YOUR ROPE
To ensure your jump rope's longevity, use it only on hardwood, polyurethane, vinyl, or rubber floor surfaces, or a special mat for jumping rope.

Avoid using your Freeletics Jump Ropes on concrete or asphalt surfaces, as those will wear down the rope's coating over time.

E-book: "Training with Weighted Jump Rope" will be sent to you as a PDF via email immediately after you check out. This e-book is provided in the following languages: English, German, French, Spanish, Portuguese and Italian.
Material

• Freeletics Exchangeable Jump Rope Handles (235g in total): Aluminum
• Freeletics Lightweight Jump Rope: Steel core & PU shell
• Freeletics Midweight Jump Rope: Steel core & PU shell
• Freeletics Jump Rope transport bag: Polyester

Cleaning suggestions

• Wipe down with towel & hygienic spray

View full details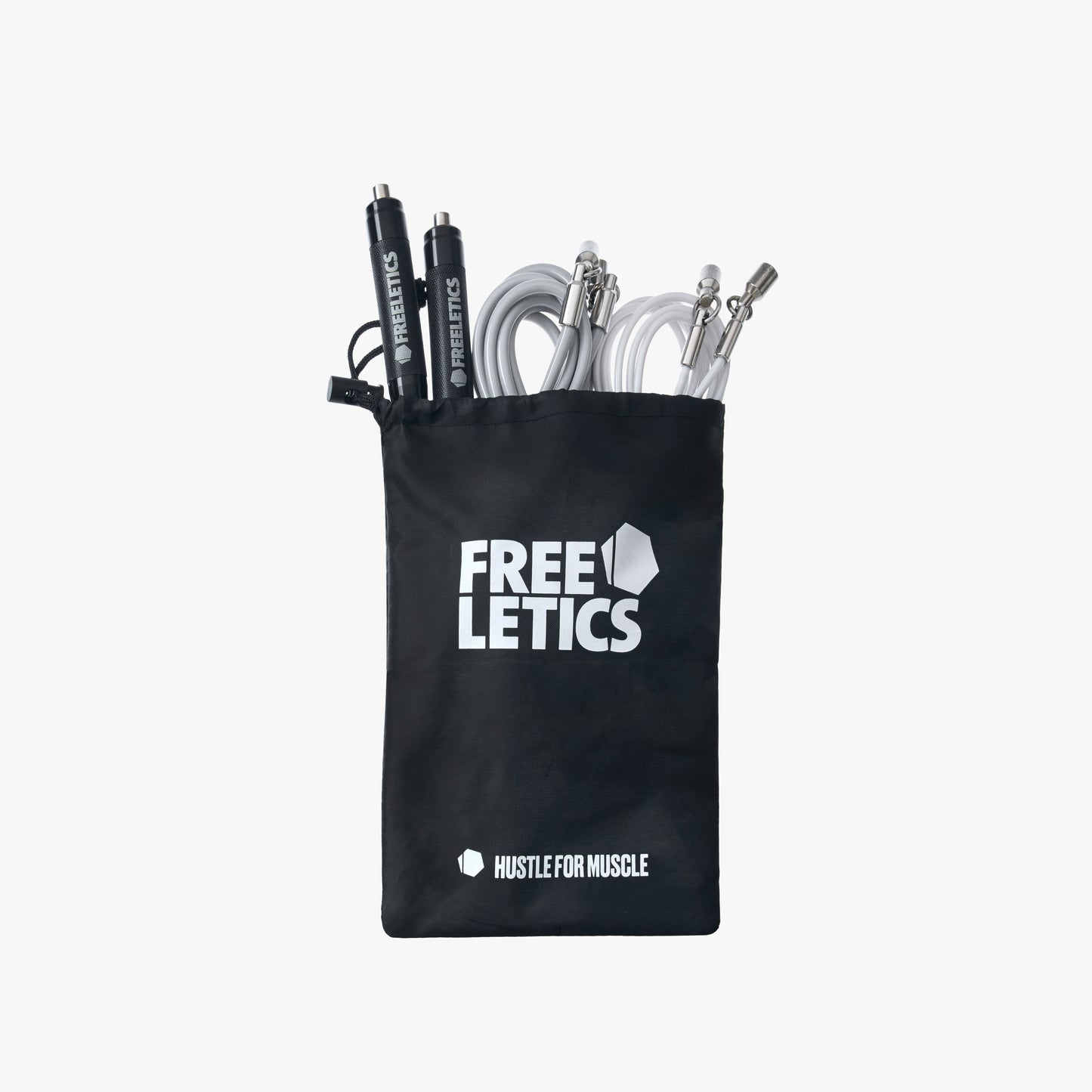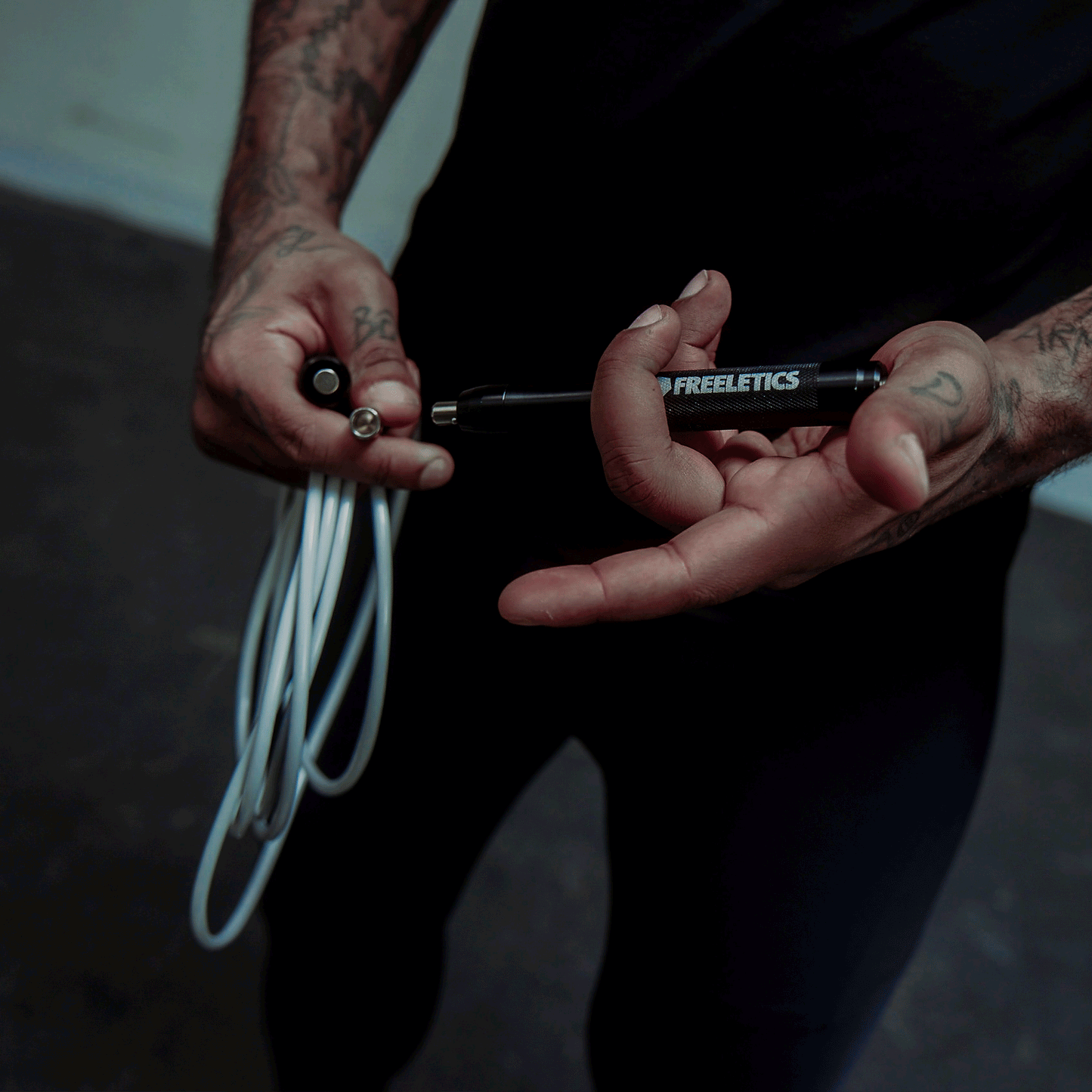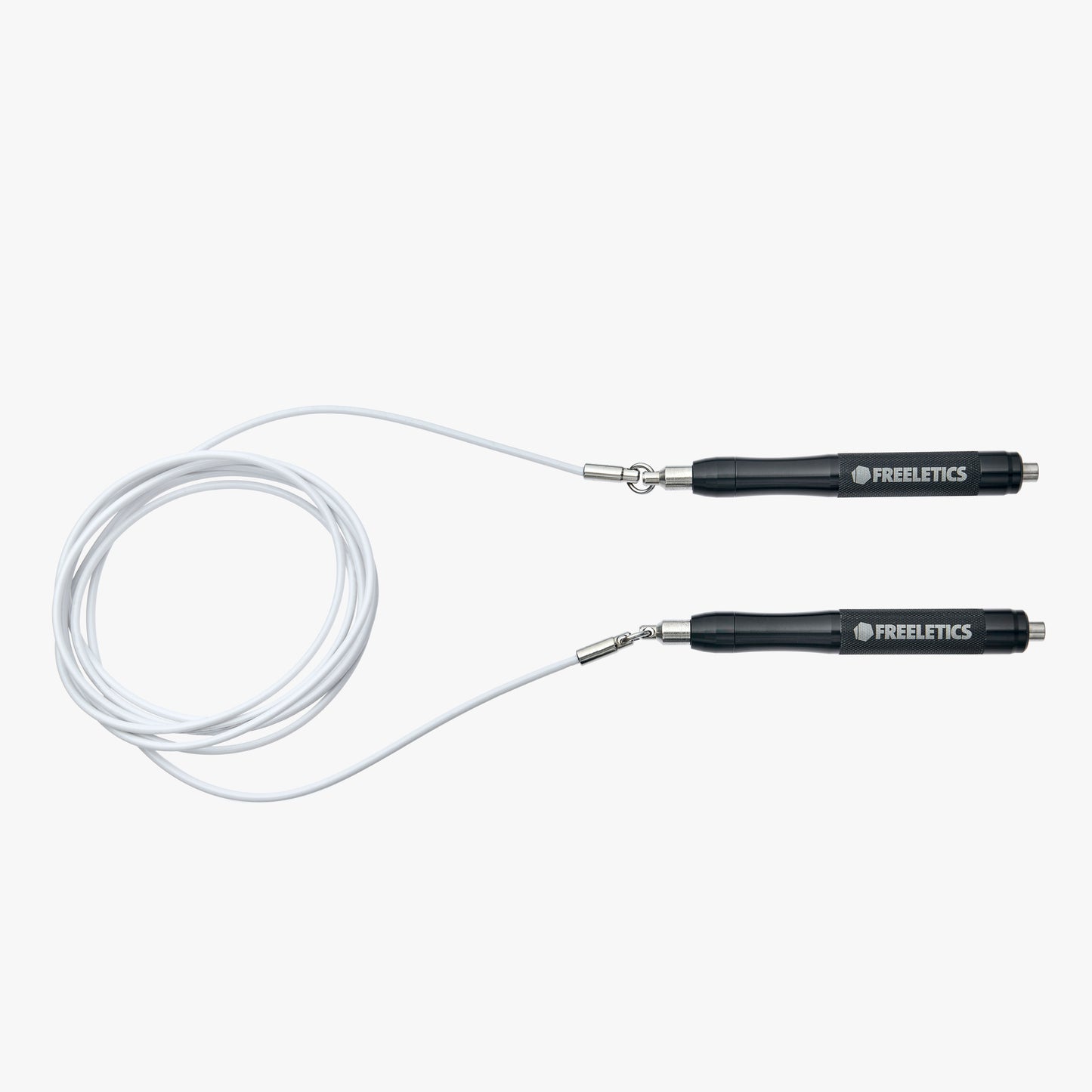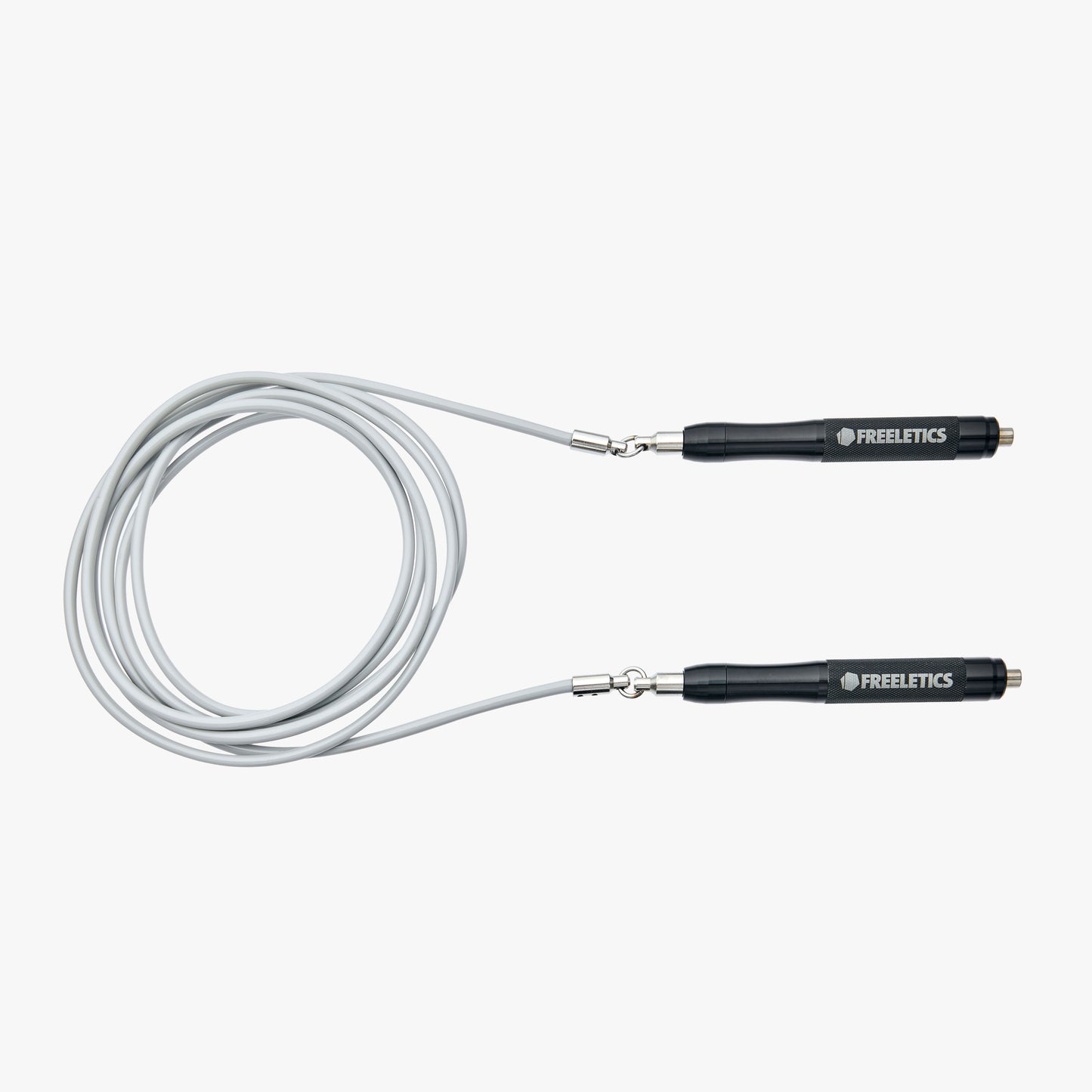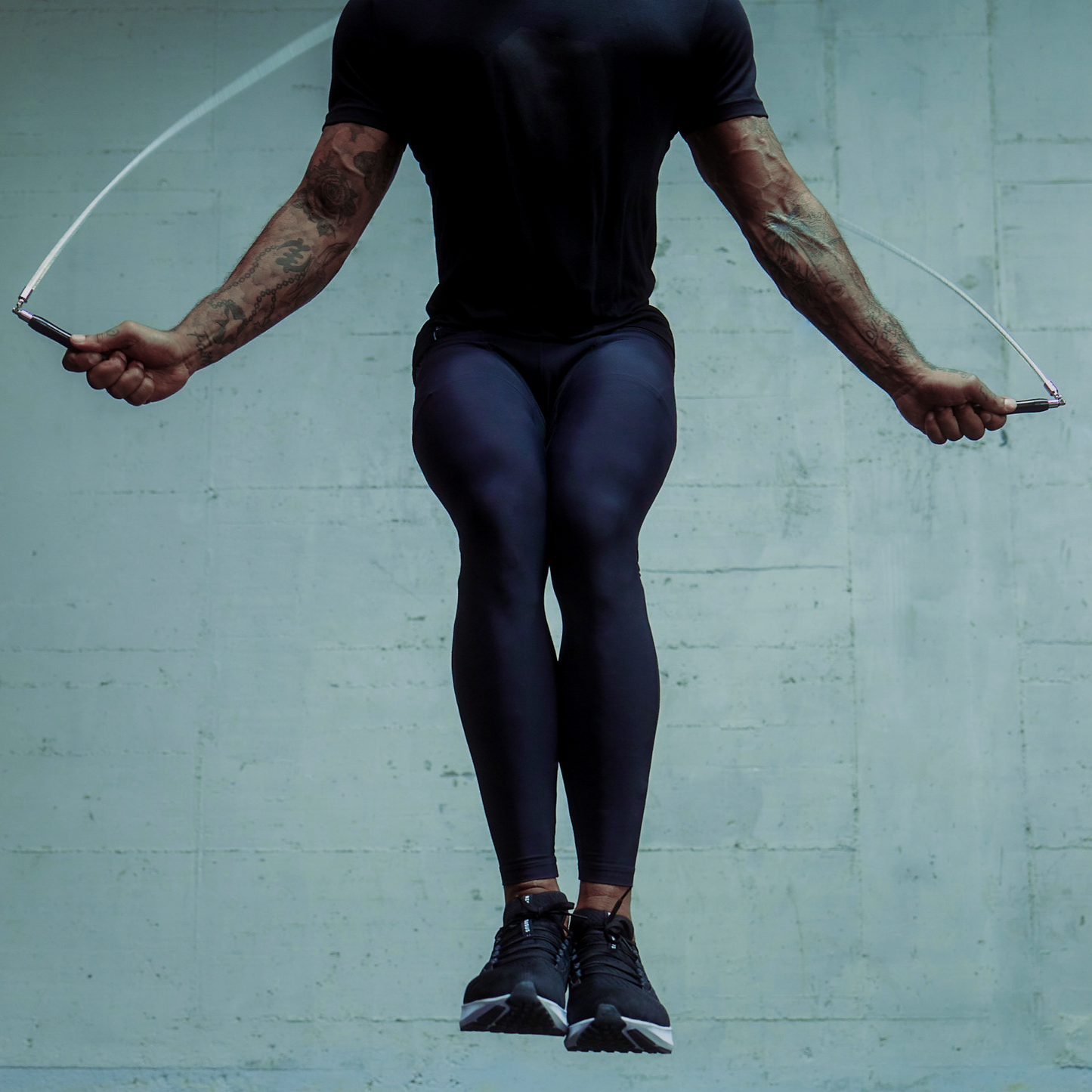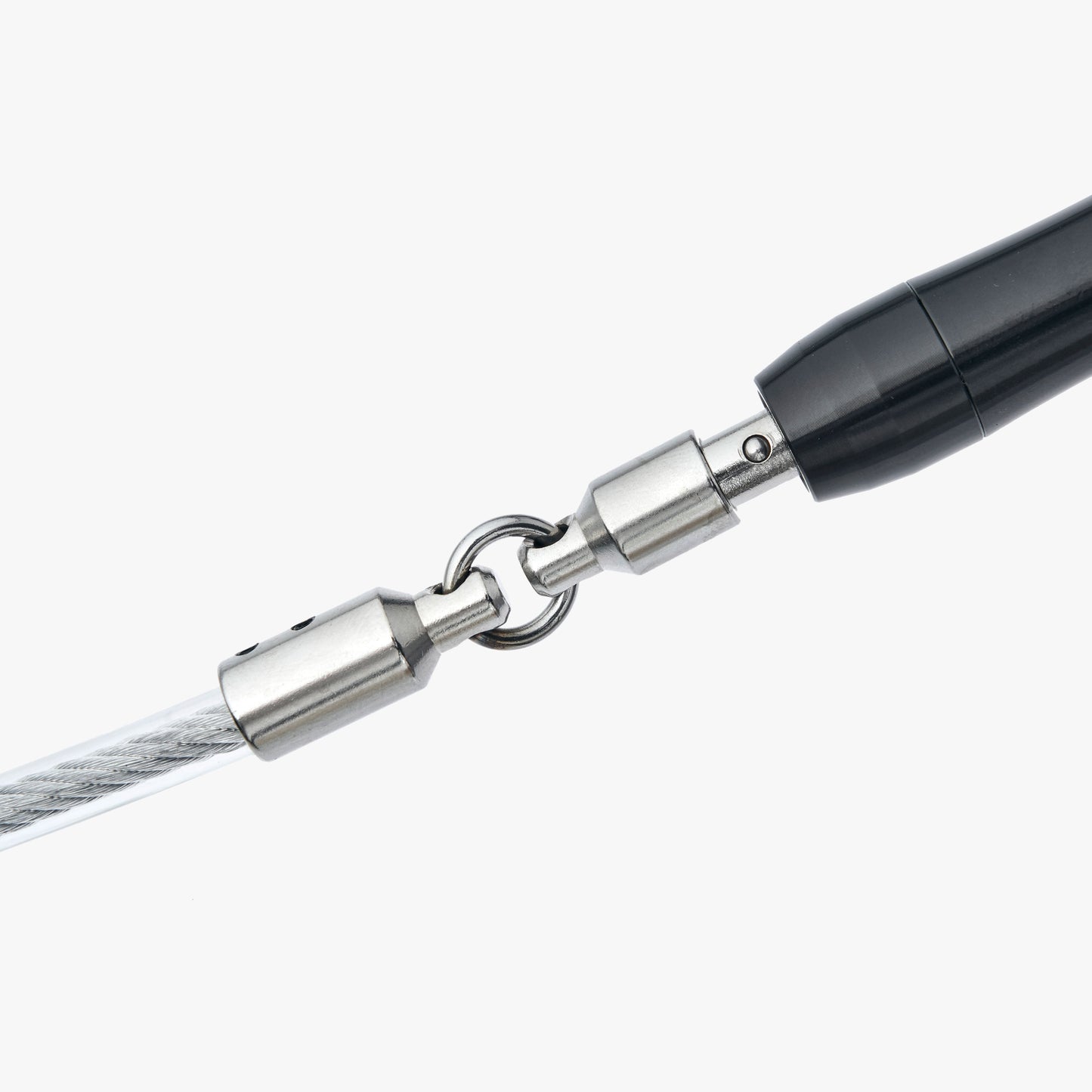 Tolles Produkt
Sehr wertiges Sprungseil.
Dss Wechseln der Seile ist einfach.
Die Griffe liegen gut in der Hand.
Die Seile bestehen aus einem Gummi-ummanteltem Stahlseil, sehr stabil.
Einziges Manko, die Erklärung zur Größen-/Längenanpassung sollte besser/eindeutiger sein
Ideal for total beginners
I was sceptical at first because of the price tag. But after several workouts I have to say that the ropes are incredible. I hardly stumble over the rope and the weight of the heavier rope seems sufficient for me to have enough feedback to know exactly there the rope is at the moment.
One of the mechanisms from the heavier rope seems a bit too tight so I have to use additional force to but it in or out if I need to switch the ropes. But other than that the product is fine :)