190 x 90 x 0.8 cm
Regular price
Sale price
84.99 EUR
Unit price
per
Sale
Sold out
In stock - with you in 7 business days

Free shipping over 60 EUR within the EU

Free returns within 14 days

Pay in 14 days with Klarna
The Freeletics Home Workout Mat is the upgraded version of our No Excuses Workout Mat featuring a bigger surface area and thicker material, this mat is built to go as hard as you go with the Freeletics app Training Journeys.

The Home Workout Mat is ideal for working out at home, with a comfortable feel, you can train at home with or without shoes and the added thickness is a great shock absorber that will reduce any noise that you make.

Built with sustainable virgin rubber and TPE, this mat is stiff enough for stand up exercises but still comfortable enough for lying down or jumping.

The mat also features both visual and physical references for multiple exercise positions to make sure you're always in the proper position and performing your workout movements safely and effectively.

With each side featuring a different surface, the marked side with position references is perfect for your HIIT training while the reverse side features an improved grip that is ideal for stretching, yoga, etc. 

Our Home Workout Mat can keep up with intense training in the Freeletics app
Details

Created to help you become a better you: The updated design of the Home Workout Mat makes sure to help you excel in your fitness goals. With a larger design and thicker, high-density material; this mat is ideal for your home workout regimen. Featuring two surfaces, one perfect for shock absorption in your HIIT training and the other with more grip for stretching and yoga movements, this mat will surely be your new favorite piece of home workout equipment. Never be left out of position with the movement reference points, the Home Workout Mat will have you prepared for any challenge.

- Colors: Black + white print
- Logo: Laser logo on the front
- Velcro straps for storage
- Packaging: Paper wrap
- Weight: 3.8 kg

Material

- BPA free
- REACH compliant
- 2 mm sustainable virgin Rubber (1st layer)
- 6 mm TPE (2nd layer) - Recyclable and requires less energy to be produced compared to other technical materials such as PVC
View full details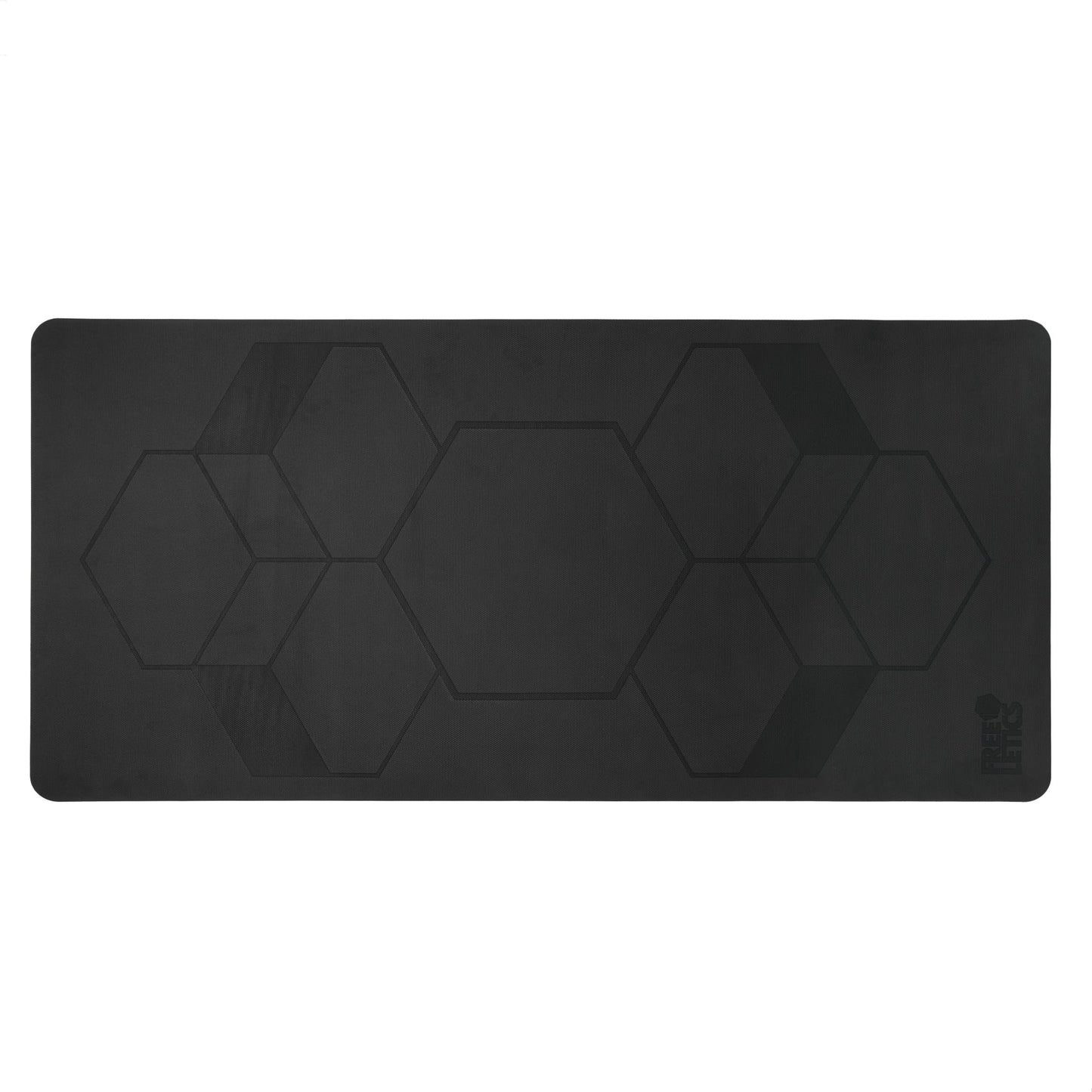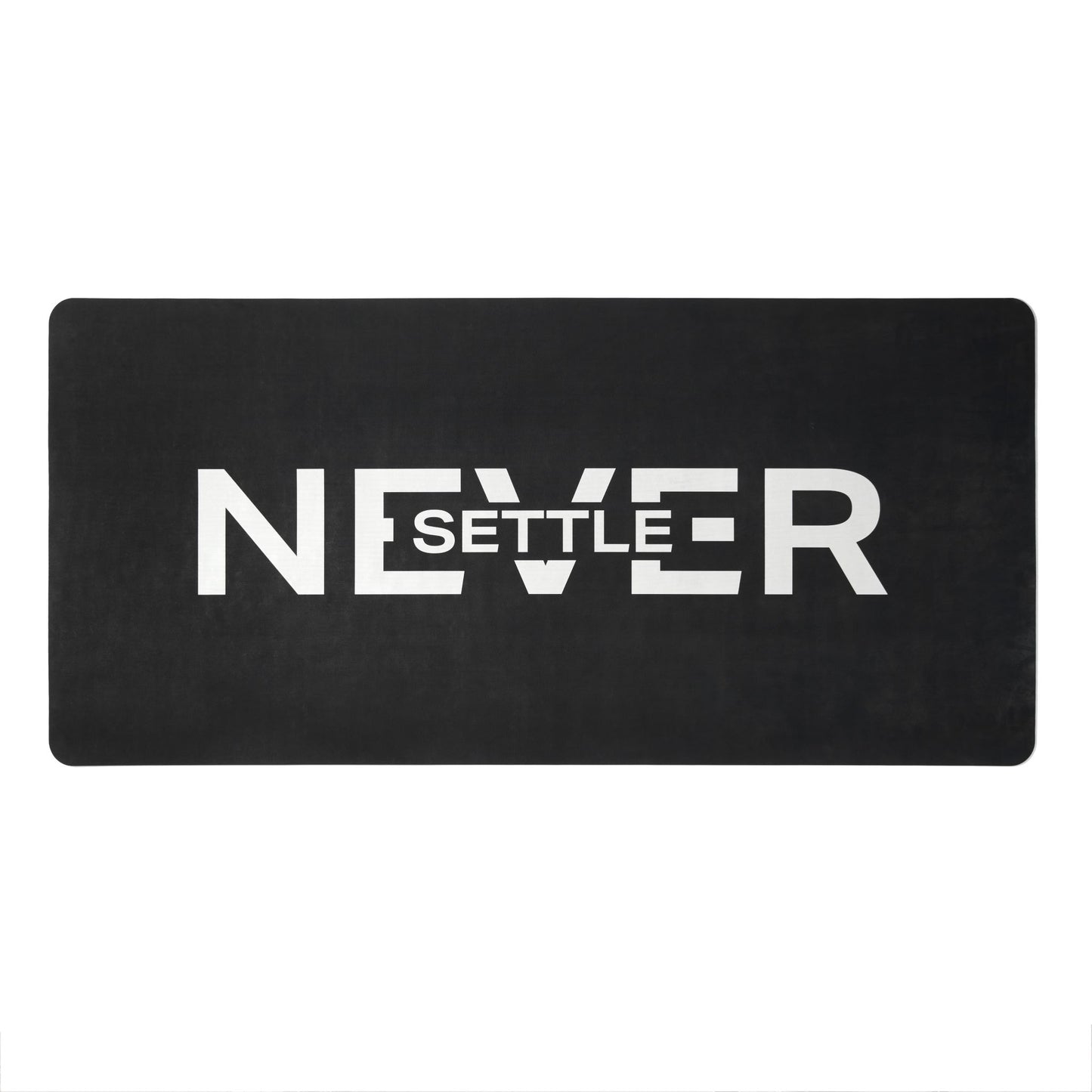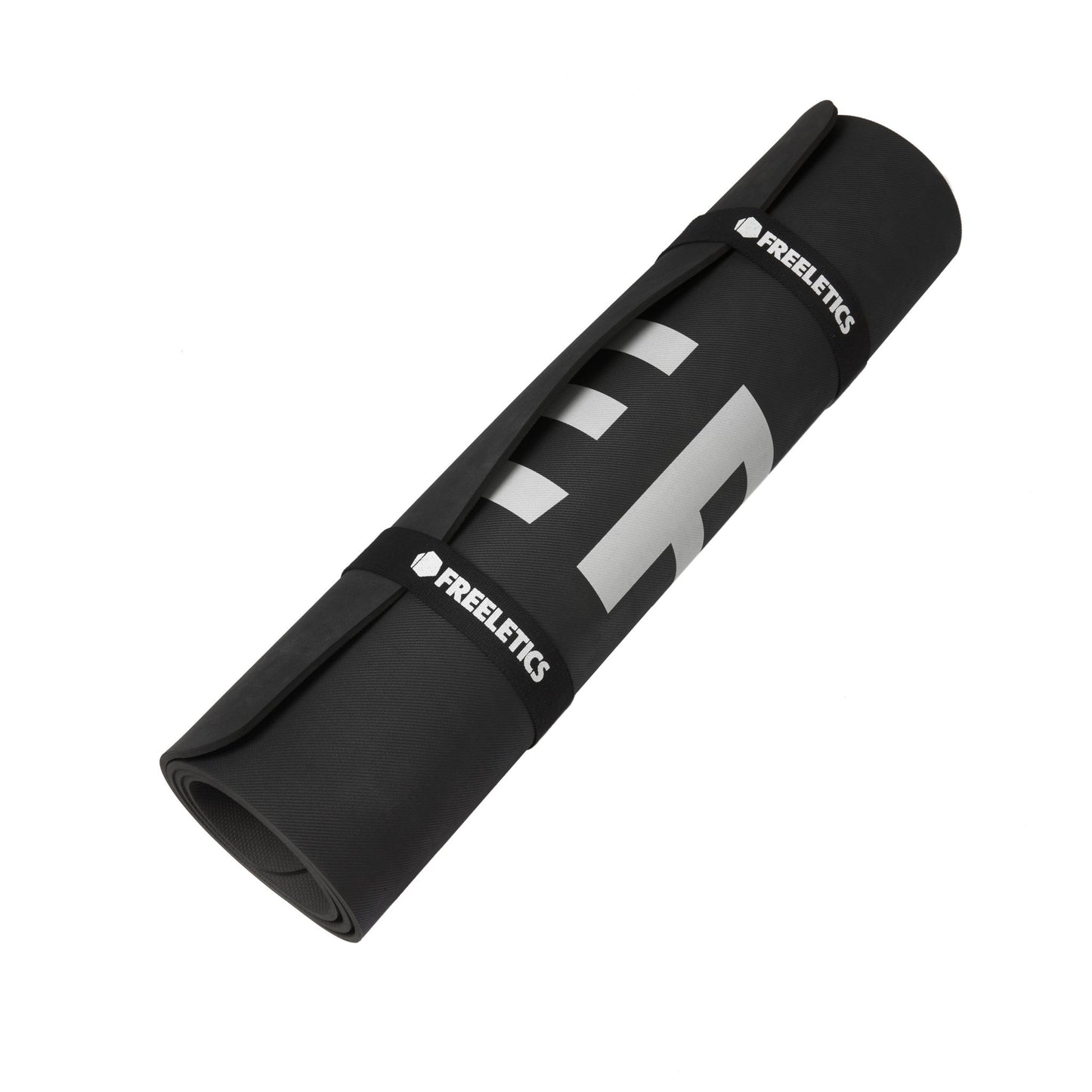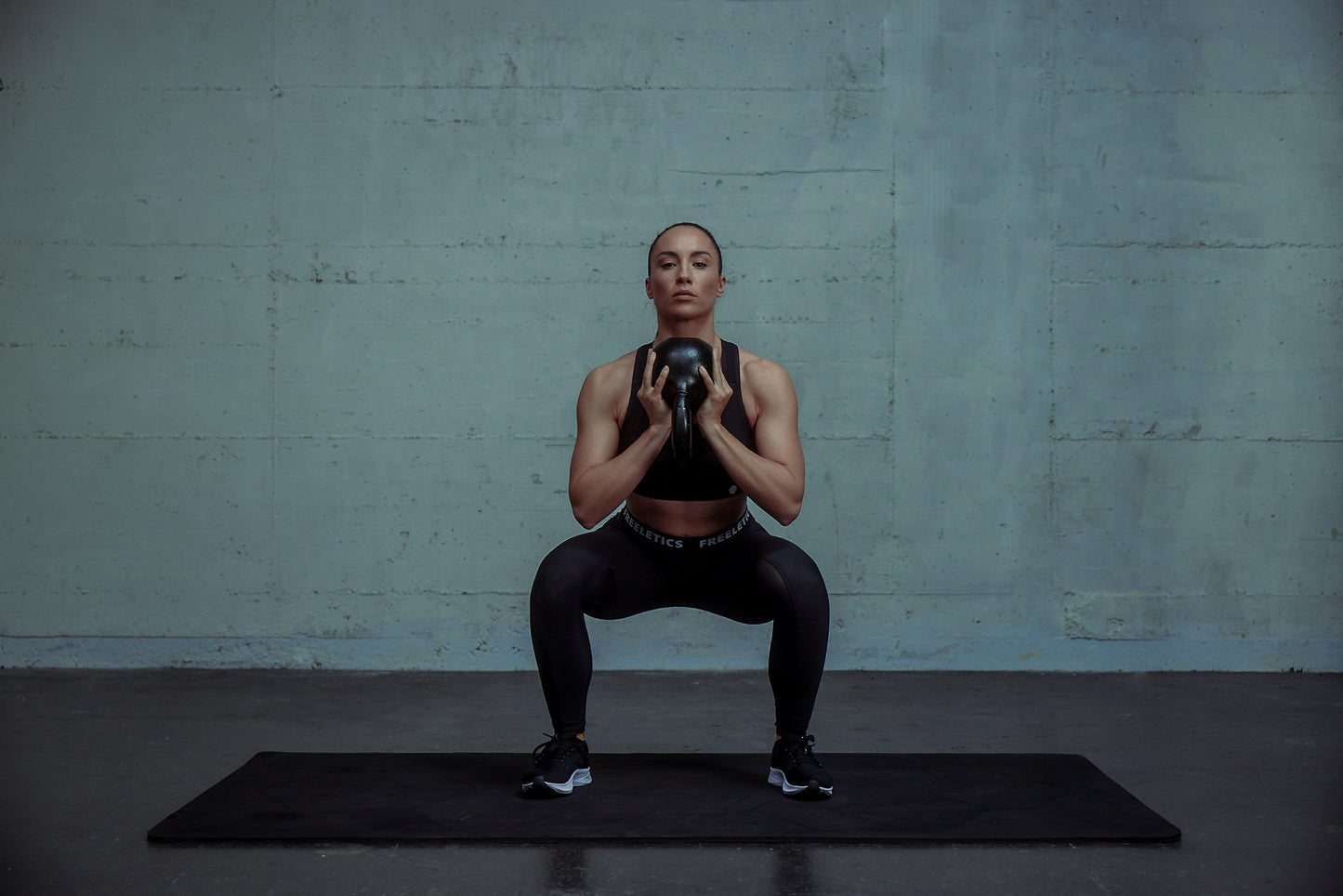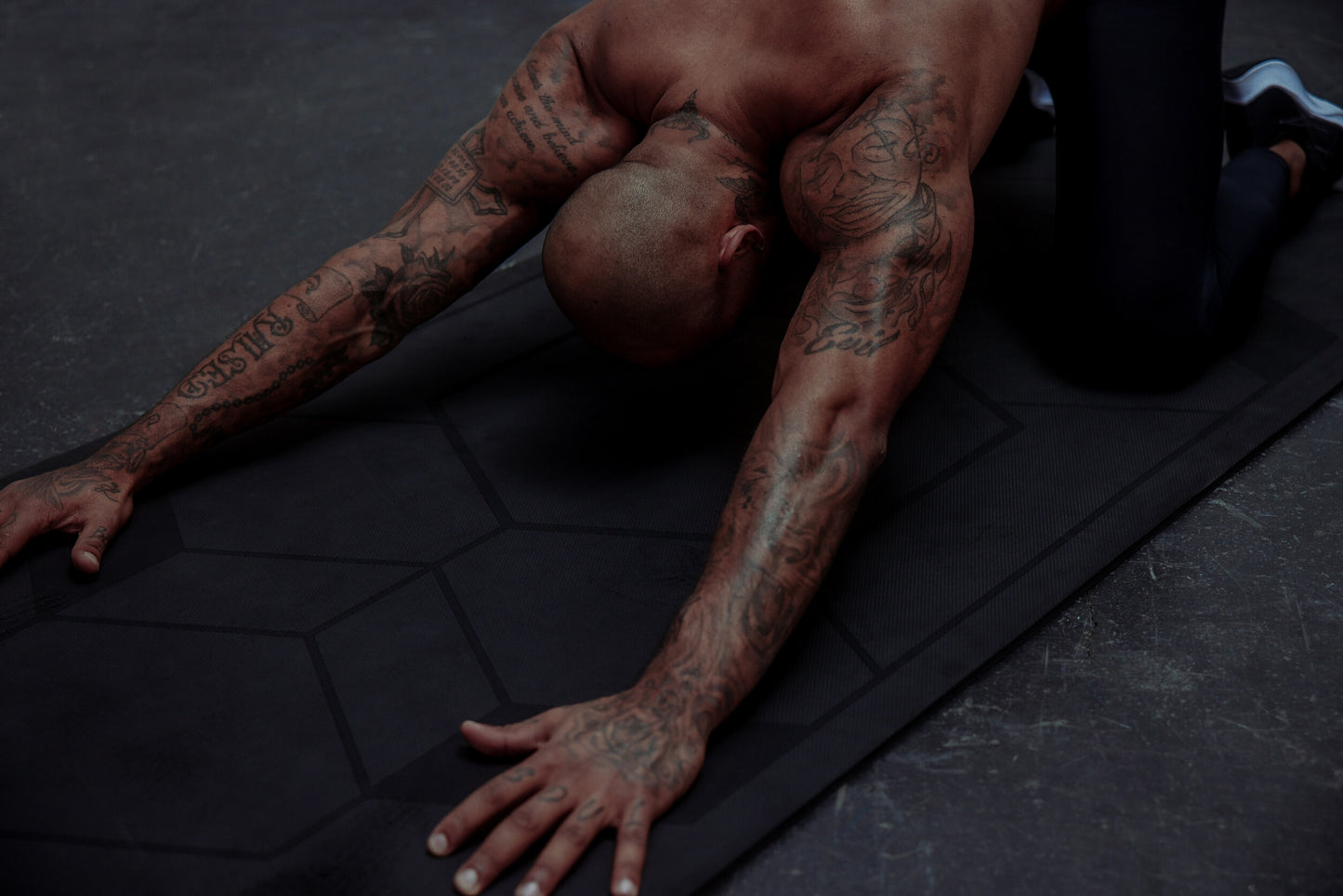 Almost perfect
The mat has a really nice texture and can be used for all kinds of exercises ranging from meditation to HIIT. It doesn't move or slide at all even on the slickest surfaces and always offers more than enough grip.
The markings on the front and text on the back look very unique and seem to be of very high quality.
The only downside I see is that the mat doesn't lay completely flat because it came rolled. The edges curl upwards to the top side (even after several days laying bottom up) which might lead to tripping over them when you are moving off and on the mat.
Very comfortable
Fantastic and finally bigger training mat.
Not to soft nor to hard - just great. No need to calculate your position before the excercise. The mat is big enough, helps you with the marked positions to have a perfect positioning of your excercises.
It holds perfectly and doesn't slide at all. After 50 sprawls the mat has not moved at all.
Bravo!