Portable Percussion Massage Device
Regular price
Sale price
199.99 EUR
Unit price
per
Sale
Sold out
Out of stock

Free shipping over 60 EUR within the EU

Free returns within 14 days

Pay 35 EUR EUR/month for 6 months with Klarna
Freeletics & Hyperice have teamed up to help you tune your body for the next-level fitness routines you demand. Warmup, Cooldown, and recover with precision-engineered products trusted by athletes and trainers all around the world.
The ultralight Hypervolt Go was designed to move with you. From the gym, to the city, to everywhere in between, it will help you keep going. And then go again.
Percussion massage is more than just hype; studies have shown that using vibration massage devices like the Hypervolt GO and Hypersphere Mini increase circulation, decrease recovery time, relieve pain, and can even enhance your range of motion if used properly before a workout.
On the go
The Hypervolt Go is our most compact and portable device allowing you to access the benefits of percussion massage anytime, anywhere.
The ultimate companion
At only 1.5 pounds and with 2.5+ hours of battery life per charge, the Hypervolt Go is fit for your next adventure.
Powerful relief with no disruption
Throw it in your bag and bring it to yoga class. Our patented QuietGlide® technology means a near silent operation so you can focus on conquering your day.
Details

Massage gun
2 head attachments (Flat head & Bullet)
18 V cable
Additional plug adapters
Operating instructions

Number of programmes: 3
Muscle groups targeted: Arms, abdomen, legs, chest, buttocks, back, shoulders

Battery: Rechargeable lithium-ion battery (2.5+ hrs operating time per charge)
Motor: 40 W brushless motor with high torque

Dimensions: 5 x 18.4 x 14 cm


Please note: Due to shipping regulations, it is only possible to add a maximum of 2 Hyperice products to your cart, as these products contain batteries.
Material

PC ABS plastic
Nylon plastic



View full details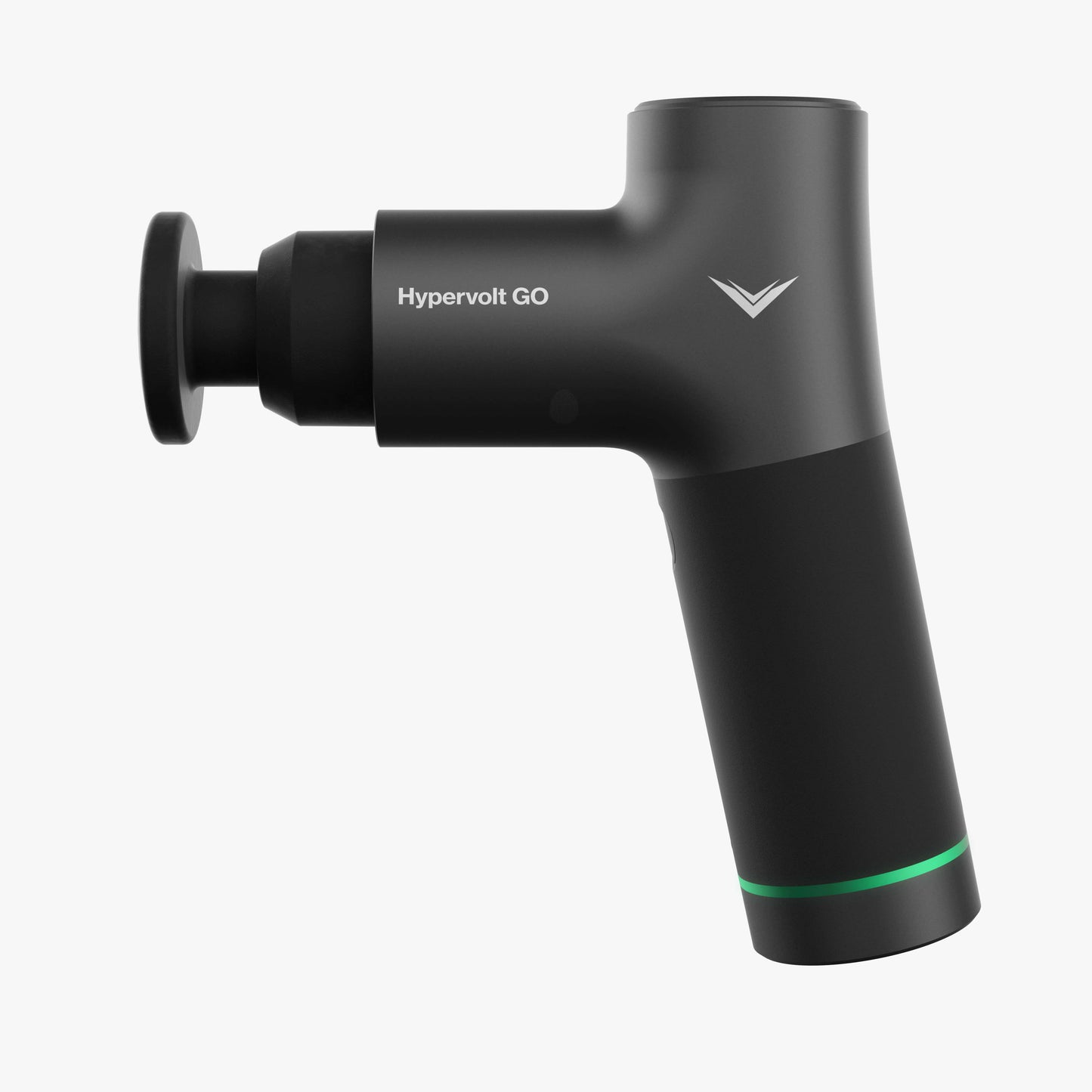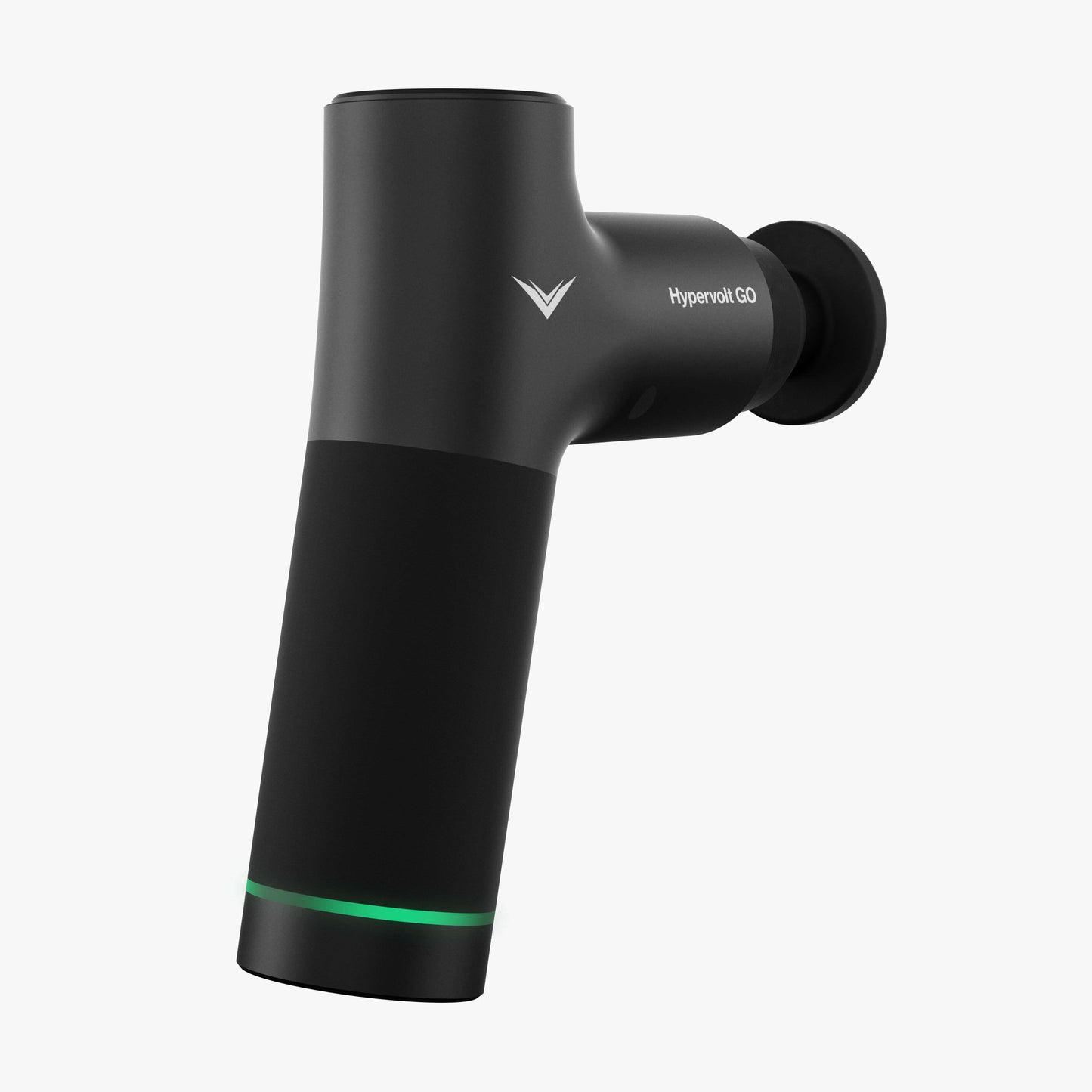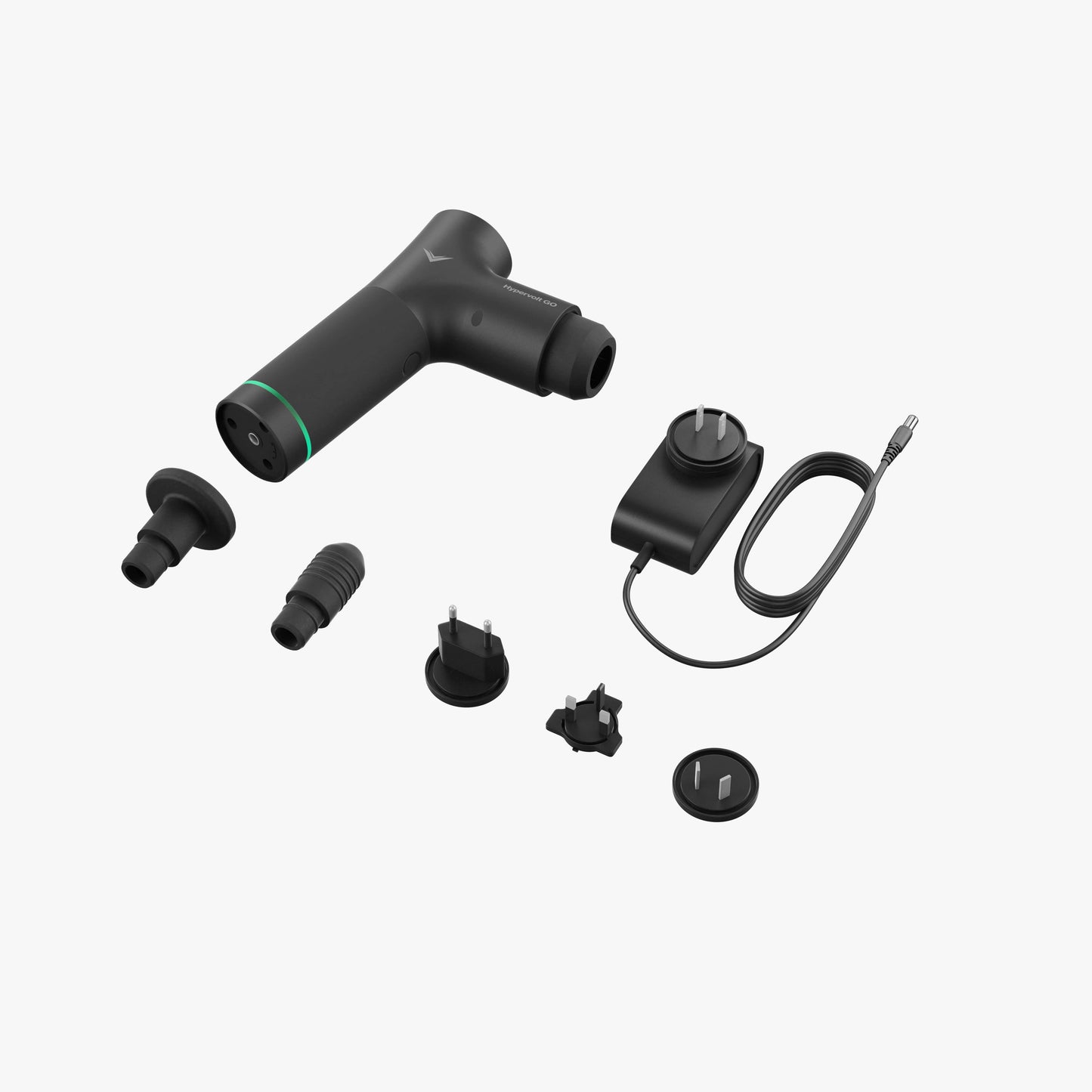 Amazing product: can't live without it already!
I never used products to recover faster. I never owned a foam roller and I never took time to stretch properly after a workout. I started to realize day by day more people started using massage guns and I decided to give it a try too. I train 6 times a week, mostly heavy weightlifting, so I often feel sore after workouts. Normally this takes about 3-4 days to disappear. When I started using the Hypervolt GO I first had to get used to the feeling of vibration on your sore muscles. Sometimes it hurts a bit. The day after I actually discovered that my muscle pain was almost completely gone. Also I use the gun to stimulate my blood circulation before a workout. I think this is a must-have for every Free Athlete on any fitness level! This device really helps you to get the best out of your workouts. In order to perform we need to take care of our bodies before and after trainings. Using the Hypervolt I can even do that in front of my television. It's really easy to use and using the Hyperice App helps me to use it in the best way possible! Thumbs up for this lifesaver!
Hypervolt GO!!!
The hyperice Hyvervolt GO represents my first experience with any of the Hyperice products and if the rest of the items available are as good as this, it won't be my last. The package included the Hypervolt GO, two attachments and a charger complete with adaptable plugs to suit your needs. The Hyoervolt GO itself feels robust and the finish on the handle is really comfortable in the hand. When paired with the Hyperice app it really is easy to use right out of the box. The app allows you to select which product you have and then provides you with guided routines that are tailored to the equipment you have available and for the areas of your body you wish to target. I have been using the Hypervolt GO with the app for a week now and I can feel the benefits of the routines which have aided my recovery and loosened tight muscles in my neck and upper back. It took a few attempts to get used to the feeling as I am very ticklish but after a few minutes you relax in to it and the instructions within the app guide you through your routine. Fantastic product and I will be looking at the other items available for sure.
great cool down & warm up tool PLUS best travel accessories
I use the Hyperice Hypervolt GO after training and also before a workout to warm up specific body parts. For me it wont replace a warm up or cool down BUT it is a great add on especially to give some muscle groups some more attention than usual.
BIG Plus the extra charger/adapter plugs - perfect for traveling!